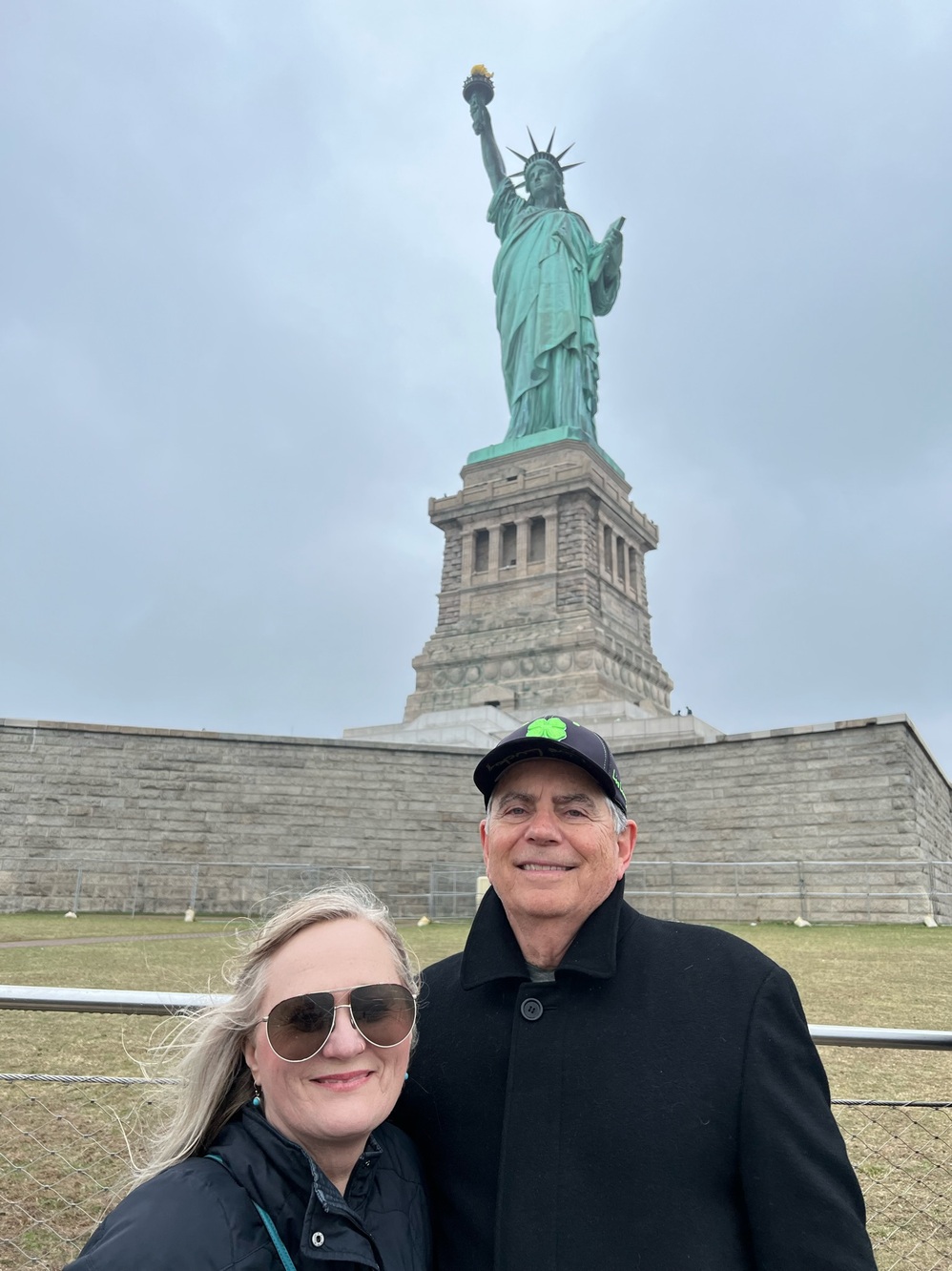 We are back from our epic adventure in NYC. We walked almost 90,000 steps and saw almost everything that we wanted to see during our seven days there. Below are some of the highlights.
Getting to see Miss Liberty herself, aka the Statue of Liberty and learning some of the history about her. We also went to Ellis Island afterward, which we would have loved to explore more but we were cold and wet. The day of this adventure, it decided to be cold and drizzly. We were expecting the cold, but not the drizzly for that day, so none of came really prepared for that.
One of the newer tours is a walking tour about the Story of Alexander Hamilton in Lower Manhattan. Our tour guide was very knowledgeable and enthusiastic. I was surprised to learn that she had only been doing this work for about a year or so. Another fun fact was that this tour started as a result of the interest in Hamilton due to the play! And Bowling Green was in fact a place where colonial Americans bowled. The fence surrounding the garden there has been in place prior to the American Revolution and once exhibited finials with the royal symbol of the crown. These were lopped off by the Sons of Liberty. A statute of King George was also toppled and both were used to make bullets used against the British. #irony
The absolute highlight of the week was a visit to Neary's pub. This pub was started back in 1967 by Jimmy Neary. I happened to fine them when searching for places to eat close to the hotel we were staying in. When we arrived, we were warmly greeted by Mary who treated us like family. We wanted more of the backstory on Neary's, so his daughter Una happily obliged. Sadly, Mr. Neary passed away in 2021. There is a brief documentary on Neary's on Amazon called "Neary's: The Dream at the End of the Rainbow."
Obviously visiting the 9/11 memorial was a given. It is a profoundly moving experience.
We had another great tour guide when touring the Metropolitan Museum and the Natural History Museum. I absolutely loved the Met Museum. My two favorites were a self-portrait of Van Gogh and a painting by Klimt.