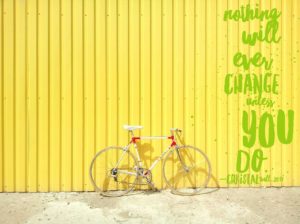 Sometimes change happens, even if you don't want it. If you have been reading my blog for any length of time, you know that I was thrust into a change that I never anticipated, nor wanted. And I'm still working on what the change means for me and for what kind of life I want for the remaining days (and years, I hope) I have on this planet.
Other change is what we want to see happen because we aren't particularly satisfied with something. Right now, that's the kind of change I'm seeking and I'm working on motivation. I do not like feeling fat. I do not like feeling lethargic. I get trapped though and part of it is because I have this constant voice in my head to NOT DO THE THING I want to do.
This is the voice of self doubt and worry of what other people think. I hate fucking hate it.
This is the voice that keeps me inside of my apartment instead going out and exploring. Living the life I want instead of the life I'm imagining.
So I'm challenging myself right now. On this blog. Holding myself accountable publicly!
This week I will:
Take myself out to dinner on a date with myself
Go jogging three times
Plan a quick week-end trip to some place I've not been before.